Create and eSign all documents
Go Paperless for
Digital Efficiency
Get a Free Demo
Cyber Deal: 6 months 50% off!
Digitalize Your
Documents. Simplify
Your Moves.
Say goodbye to paperwork that accompanies the moving process.
Create and e-sign documents, including Bills of Lading, anytime and on any device.
Eliminate risks associated with lost or damaged physical documents.
Reduce expenses related to printing, storing, and handling documents.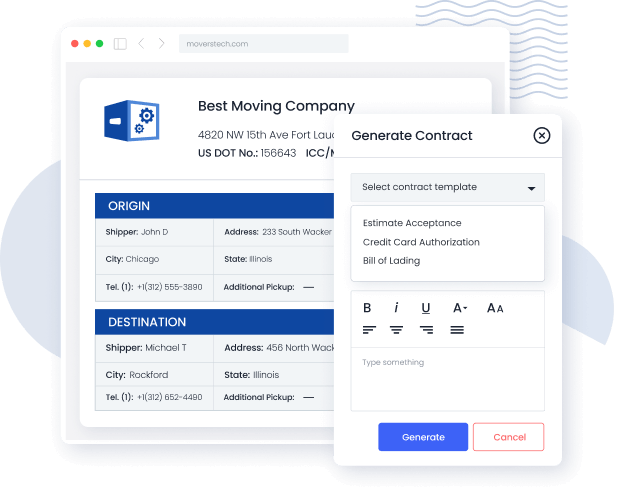 Eliminate the need for physical paperwork
Fully digitize creation, management and storing of essential documents. Keep everything safe and well organized.
Get a Free Demo
Prepare BOL anywhere, using any device 
Whether in the office, on-site, or on the move, our moving CRM software ensures access to all important documents and templates.
Get a Free Demo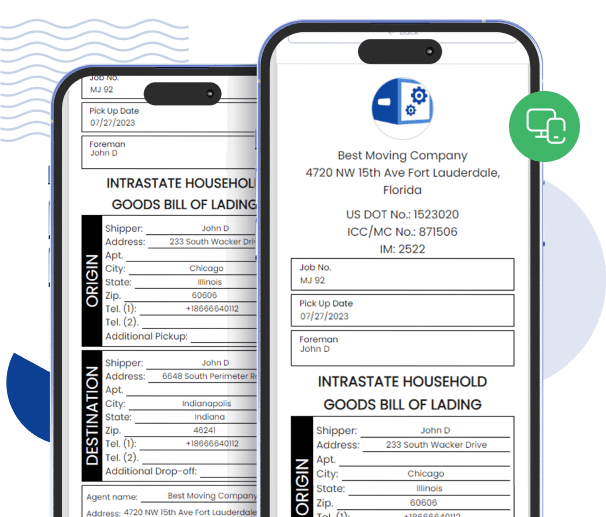 Reduce time spent on paperwork
MoversTech user-friendly interface offers pre-made templates and customization options for quick document creation. The eSignature feature eliminates the need for physical signatures.
Get a Free Demo
Make smart choice and embrace the future of document management
Opt for a cost-efficient solution that simplifies managing paperwork while contributing to a greener and more sustainable environment.
Get a Free Demo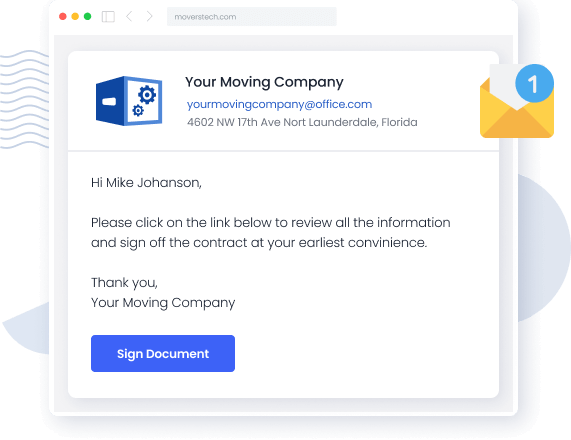 Discover All Our
CRM Features
Explore MoversTech solutions designed to help your moving business run smoother and grow faster. Whether you're keeping track of customers or creating your schedule, we've got the tools to help.
Frequently Asked
Questions
How can my moving company benefit from CRM?
Centralized customer database, appointment scheduling and dispatch, inventory management, reporting, and analytics.
Can I use MoversTech on the go?
MoversTech is a cloud-based moving company CRM software that can be used on any computer or mobile device that has access to the Internet.
Do I need a lot of training to use the CRM?
MoversTech offers a user-friendly interface, intuitive navigation, and lots of customizability. The software is designed to minimize the learning curve, but some initial training might be required. Our dedicated customer support team is at your disposal for any help or questions throughout the onboarding process.
Can MoversTech be customized for our company's needs?
There's a lot of flexibility with MoversTech, allowing you to tailor the moving CRM software to your needs. Starting from custom fields and moving through stages all the way to reporting capabilities.
Will the CRM help with customer communication?
Our platform will help you streamline customer comms and track all emails, phone calls, claims, and other interactions. We can help improve service quality by setting up automatic follow-ups and notifications through email and SMS.
Does the CRM integrate with other platforms/software?
Absolutely! We can integrate with most other systems commonly used in the moving industry, allowing you to establish a seamless data flow
Stay Informed
Subscribe

for industry
news & updates
"*" indicates required fields