Remote sales teams have always been a staple within the digital marketing scope of large businesses. Having sales teams across the globe guaranteed localized outreach, increased sales representation, and even reduced costs in terms of outsourcing. In 2021, it's still a central point of discussion; in fact, it's arguably become more significant than ever. However, managing remote sales teams is no easy task, as it comes with multiple challenges. Here at MoversTech, we're keenly aware of said challenges and are more than happy to help address them. In this article, we've gathered a list of useful tips for managing remote sales teams that you may consider.
Remote selling as a necessity – and choice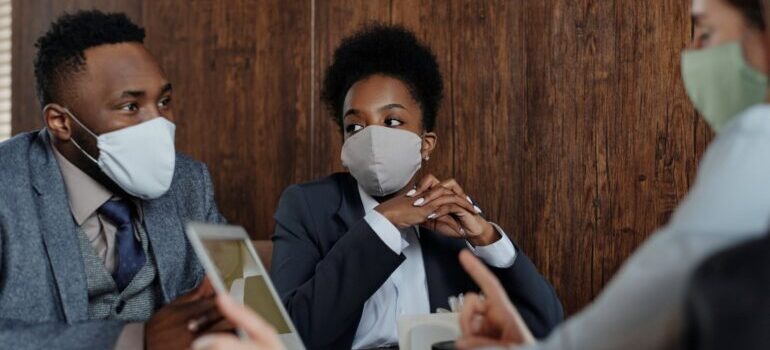 With COVID-19's impact on the world economy still on display, remote sales have become a necessity. Social distancing, restrictions, and other measures have considerably reduced many business's options. However, remote selling always had demonstrable merit regardless; digital marketing boosts revenue, and digital-first, customer-centric business strategies yield notable results. Thus, remote selling is more of a choice than a necessity for many, regardless of industry or business size. Then again, this choice also presents the subject at hand; managing remote sales teams is uniquely challenging, especially for new businesses.
Managing remote sales teams – a simple and effective guide
With the above-mentioned ideas in mind, there are as many ways to approach the subject as there are businesses. However, there are some universally useful steps to effectively managing remote sales teams. As with all business endeavors, they hinge on clear goals, collaboration, proper tools, and an attentive eye throughout the process.
#1: Set clear expectations from the start
As with all business endeavors, establishing clear goals is incredibly valuable. To align with your vision and expectations, sales reps need concrete, measurable targets to work toward.
Thus, S.M.A.R.T. goals are a safe, tried-and-tested blueprint for establishing such goals. The acronym stands for the following crucial factors:
Specific – be as specific as possible
Measurable – base your goals on measurable key performance indicators (KPIs)
Achievable – consider your resources and commitment
Realistic – keep your goals realistic in relation to your existing infrastructure
Timely – establish time-bound goals with clear roadmaps
With such solid goals, managing remote sales teams can only become easier. From keeping track of your daily schedule to evaluating your weekly or monthly progress, your team will benefit from a common vision.
#2: Engage in team-building activities and encourage collaboration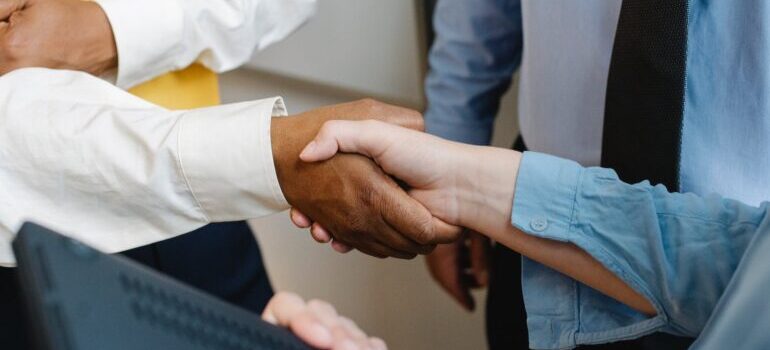 Similarly, team-building is universally important. This arguably applies to remote teams even more so, since not sharing physical workspaces can undermine team cohesion.
While this challenge can be overcome in many ways, the most common is to employ a platform of synchronous communication. Slack and similar platforms can be an excellent choice in this regard, as they also help optimize time management.
Synchronous communication platforms help incite engagement
First and foremost, such platforms provide an engaging means of communication. From visual content like images and gifs to reactions and personal tags, they incite engagement more effectively. Furthermore, non-work related channels can substitute for one's water cooler space, where teams can relax, chat, and bond. Finally, direct messages provide similar benefits, as well as allow for 1-on-1 discussions with managers if need be.
Synchronous communication improves time-efficiency
At the same time, they enhance time-efficiency compared to traditional, asynchronous communication like email. Searchable, subject-specific channels, pinned posts, and more, help reduce wasted time in intuitive ways.
#3: Provide powerful yet accessible tools for communication and data visibility
Of course, such platforms are not the only tools to consider. Technology offers multiple tools that can make managing remote sales teams a breeze. CRM is a very notable example, as lead management capabilities can help streamline operations. However, as you choose your tools, carefully consider the following.
Power and cost-efficiency
Different solutions come with wildly different capabilities, and of course different pricing. Thus, you should very carefully consider how potent your tools are, and how well they address your individual needs. Budgeting for CRM is no easy task either, so cost-efficiency is absolutely essential.
Accessibility
Similarly, accessibility is equally crucial. Potency aside, your tools must be accessible and user-friendly to guarantee adoption and optimal use. As such, you should likely favor clean interfaces and avoid needless clutter – less is often more. The less technical knowledge your tools require from your teams, the better.
#4: Coach and onboard
On the subject of accessibility, then, consistent coaching can only help guarantee onboarding. That aside, coaching has multiple self-evident benefits, such as:
Increased motivation
Improved professional skills
Consistent performance evaluation
As outlined above, managing remote sales teams comes with the unique challenge of not sharing a physical workspace. Consistent coaching and team-building through such means as the above-mentioned ones help alleviate this somewhat, bringing teams together more effectively.
At the same time, coaching can help ensure onboarding as new solutions and tools enter your operations. Onboarding presents a similar challenge that's more prominent in remote teams since there's no physical proximity. In the case of CRM, that's particularly noteworthy; CRM statistics show that onboarding remains a concern for many. As such, constant coaching, seminars, virtual meetings, and other educational opportunities are crucial to onboarding and managing remote sales teams.
#5: Focus on time management, cost-efficiency, and clear processes
Finally, all of the above culminate into new opportunities to refocus your efforts toward new goals. Managing remote sales teams hinges on time management and cost-efficiency, which clear processes, aligned with concise goals, can help refine.
This potential refocus may indeed be vital moving forward. For example, Forbes notes that sellers expect the following:
A 77% decrease in customer retention
A 42% drop in cross-sell and upsell opportunity
An 18% drop in new business acquisition
These and other forecasts only highlight the need for customer-centric approaches and reevaluations of operations. Fortunately, CRM and other technological solutions can provide invaluable assistance, by both providing a clear overview of operations and facilitating better cross-department communication and new uses for customer data.
Conclusion
Thus, to summarize, managing remote sales teams is indeed a challenge – one without few universal, easy solutions. However, it remains a business endeavor at its core. Clear goals, team cohesion, powerful tools, and consistent coaching and monitoring can all help overcome obstacles and ensure longevity.
Stay Informed
Subscribe

for industry
news & updates
"*" indicates required fields