The growth of your company depends on how well you can integrate your business with other useful tools. By far, software solutions for social media and customer relations play the most important role. Wouldn't it be great if you could manage customer relations by using social media? Well, with the help of social CRM software, this dream will quickly become a reality. Let's learn more about the top benefits of social CRM solutions, and why you should use them to scale your business and increase customer satisfaction.
Building customer relationships – the path to success
Companies all over the world massively use CRM to build customer relationships. Collecting customer data via phone, e-mail, and online surveys and polls is a proven tactic. However, there is also another way. Social media is mostly used today as a chat platform or online shop. Combining social media with customer relationship management gives us a unique tool to not only build customer relationships but also improve trust.
What is social CRM?
Social CRM is a strategy that utilizes social media platforms and CRM techniques to better engage with customers. The goal is to get B2C and even B2B communication to a whole new level.
If you are thinking of social CRM as another marketing strategy, there is more to it than just advertising. The top benefits of social CRM solutions are:
super simple and quick customer support line;
real-time customer engagement;
branding company through customer interactions;
discover who your best business advocates are;
improve overall communication and relationship with your clients;
Social CRM as a customer support channel
One of the biggest issues with the usual customer support is that the customer has to wait. Whether it is a phone line, a ticketing system through a website form, or via e-mail, there is always an unpleasant delay while waiting for the response. The best option is having a live customer support chat, and social media CRM is closest to that option.
People use social media to communicate either way. This is just a fantastic option to help them reach customer support more quickly and get an answer. Furthermore, being active on social media means you are physically there 24/7. Suddenly, your business transforms into something personal.
When you add all together, this customer support approach is also a great tactic for increasing your customer base.
Real-time customer engagement through social CRM
It is amazing how people communicate differently once they know they are directly talking to a person. It is a whole other experience from answering an e-mail. Besides customer support, social CRM can also engage your customers in real-time. Whether they are trying to find information on new products, or whether you want to present a new offer, it all happens "live".
It is a more personal approach because the customer knows that someone out there allocated some time to speak with them directly. They are not getting a general e-mail targeted at a huge group of customers.
Another benefit of real-time customer engagement is that the client gets what they need instantaneously. It is equivalent to walking into the store, and purchasing something, or asking a question. But, it happens from wherever they are.
Branding of the company happens with every interaction
When it comes to branding your business, do not think that you first have to develop a customer base and seize the market to start the process. Branding happens from day one. Every interaction with your clients is a step towards or step away from raising awareness, spreading company goals, and becoming viral.
Social CRM only speeds up the process. The accent is again on everything happening in real-time. Social media is becoming an inseparable part of peoples' lives. As such, you have to include it in your business. Missing that opportunity will only mean that someone else will take your place.
Do you know who your best advocates are?
One of the best features of social media is that it allows people to share stories. Whether they hear or see something good or bad, they can share it with their friends with a click of a button. You need to become that good story that everyone will share.
Social CRM also lets you follow your clients. Find out who your best advocates are. If there is someone sharing links to your website or talking great about your line of products, you will want to know who that person is.
Rewarding your most loyal fans is a great way to start a loyalty program. Social CRM helps you to find and document who those customers are.
Improving overall communication with clients
Have you ever seen how a social media profile of a popular person looks like? Tons of notifications, DMs, and friend requests. At one point it becomes impossible to manage all of that on your own. Now, imagine what happens if you own a successful business. The number of customers substantially scales up. With social CRM, you have the entire overview of all your notifications and messages. You can easily browse through them or do filter-based grouping.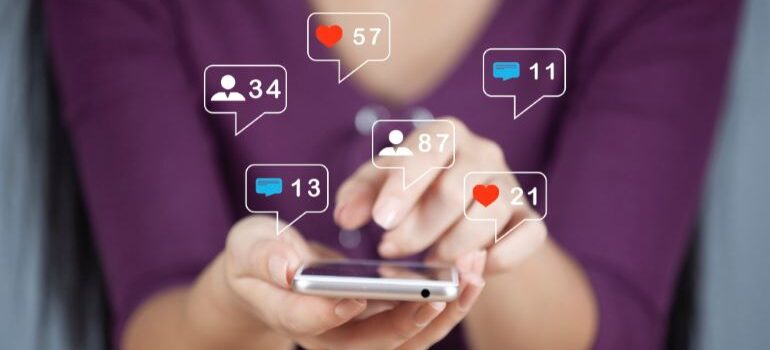 You can also respond to messages more easily if everything is organized. The goal is to keep up with the incoming requests. Otherwise, there is no point in using social media if it will take hours to answer a client's request.
The top benefits of social CRM solutions made easy
These top benefits of social CRM solutions are more than enough to understand why this approach is very important for your business. Social media integration with different processes can only improve your business. Best of all, through this social CRM interaction, you can also collect customer data. That is the sole purpose of CRM. The only difference is that through social CRM you are getting that data firsthand. Save yourself and your customers some time, and both you and them will be very happy!
Stay Informed
Subscribe

for industry
news & updates
"*" indicates required fields