One of the telltale signs of a dependable moving company is that the company can quickly and effectively deal with customer claims. All moving companies will receive claims from their customers regardless of how good their service is. And if you can deal with them properly, you will have more satisfied and content customers and greater chances for repeat business. On the other hand, if you are struggling and don't know how to tackle customer claims, they will likely have a slew of bad reviews, even if their service is top-notch. So, we will use this article to cover dealing with customer claims in due depth.
Is there a bulletproof approach to dealing with customer claims?
The process of handling customer claims is relatively straightforward. Almost all moving companies have a similar way in which they will overview, address and then review customer claims. But, just because the method of dealing with customer claims is straightforward doesn't mean it is easy. It would be best to have a combination of well-trained staff and customer care software for movers  to make tackling customer complaints a fully manageable process.  Understanding how technology helps your daily dealings with customers and transcending that knowledge to your whole team and crew will bring you one step closer to having a high percent satisfaction rate.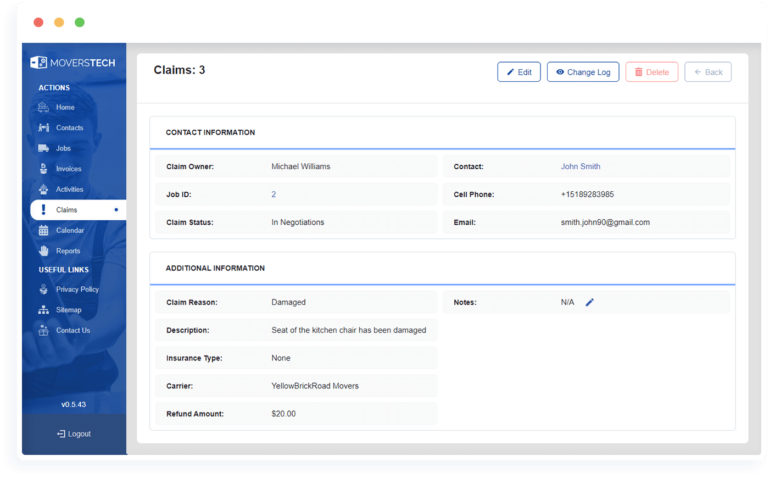 Responding to the customer is the first step
The first step in managing customer claims is to respond to them. All customers would like to feel that their concerns and disputes are taken seriously. Therefore, promptly responding to the unsatisfied customer and verifying that you've received your response is paramount. This will reassure them that you are dealing with the problem with due care. Fortunately, this step of customer claim management can be automated. A CRM with email automation for movers can have an automated response system for customer claims. Such systems make handling sales and disputes much more manageable and are a godsend for inpatient customers.
Determine the reason for a customer claim
While taking the necessary steps to respond to customers, you need to outline carefully what the claim is all about. It doesn't take much experience to learn that not all claims are equally important. Does the reason behind the claim involve a lost or damaged item?  Some customers might complain about something that happened during the last move, while others might be unhappy with how their upcoming relocation is planned—either way, you need to address it as soon as possible. However, you need to develop a system where your employees can quickly determine the urgency of a claim. With the right CRM tools, you can specify the urgency level and filter the claims according to your preference.
Proper grouping and filtering of customer complaints
While there are multiple ways to group customer claims, we suggest you try prioritizing the claims in a way that best suits your operation. Whether you want to filter the claims by reason or by the amount of refund expected,  your employees can disperse claims adequately and ensure that the right people tackle the correct problems. And you'll be able to group the claims by their status and later on generate reports that accurately depict your success rate and track your performance levels.
Have a dedicated person handling the claims
Preferably your moving company should have an experienced employee serving the role of a customer claim manager or coordinator. Delegating who should tackle what claims and when can be a difficult task. And while the right CRM system can make it easier, an experienced manager will know how long it takes to handle various claims and how to prioritize them appropriately. Furthermore, they will be able to analyze prior claims and see if there are any aspects of claim management that you can improve upon.
It shouldn't go without notice that acquiring customer data can also be quite beneficial when handling customer complaints. By knowing what the customer is like, you can outline different approaches to managing their needs. And you can learn whether a specific type of customer is prone to making inevitable complaints. With the right moving CRM you will be able to stay on top of all claims, while generating valuable data and generating reports that will help you run your business more efficiently in the future.
Overview
Lastly, it is paramount that you have a decent system for accessing your resolved or rejected claims. As we mentioned, you can learn a lot by reviewing customer claims and seeing what your customers have to say. Perhaps you need to change something in your approach to handling relocations. Perhaps some of your crew members have to pay more. And maybe you are not adequately explaining the relocation process to your customers. The better your overview system is, the easier it will be to deduce whether you can improve your overall service.
Dealing with customers as a moving company
It should be apparent that dealing with customer claims is just one part of dealing with customers. And it should also be pretty obvious that, as a moving company, you need to be able to find, service, and retain customers. Various lead tracking software for movers can be beneficial here, as it will help you quickly find the right customers. But, to service them properly and hopefully retain them, you need to be able to address their claims. The better you get at doing so, the better you will understand what your customers are like. Such knowledge is invaluable in running a moving company, so having a CRM system to manage all that customer data is a must.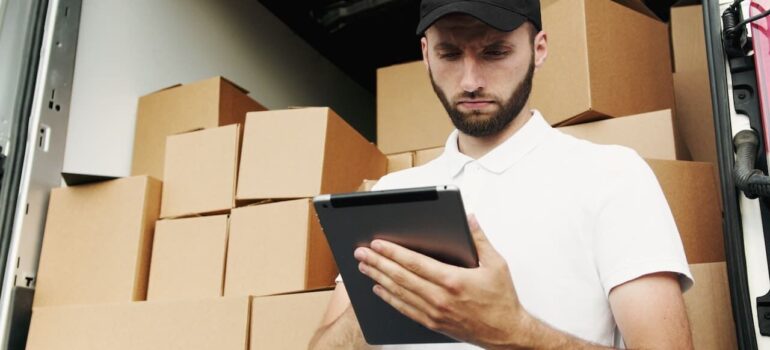 If you are still unsure of how to deal with customer claims, don't shy away from giving us a call. The MoversTech team is happy to help you determine how to address customer needs. With our CRM for packers and movers, you'll be able to easily handle customer data and make handling customer claims relatively easy.
Stay Informed
Subscribe

for industry
news & updates
"*" indicates required fields