Dispatching is one of the most essential tasks in the moving industry. Dispatchers are a point of contact for movers, managers, and customers. We can look at them as organizers, and the efficiency of the entire moving process depends on their engagement. The traditional dispatching method includes a person behind a phone, maintaining constant communication with all parts of the business. The dispatcher would make notes about shipment statuses and try to figure out how to allocate resources best. But modern times require modern solutions. That is why we today use applications to improve the dispatching process. However, it is not easy to understand how to optimize dispatching with technology. That is why we want to provide a free lesson and help you understand the importance of technology in the moving industry.
What are the benefits of using technology to optimize dispatching in the moving industry?
One of the best things about technology is that it helps you to improve any manual process through automation. Furthermore, it substantially saves dispatchers time and increases efficiency. Technological inventions, especially in the software industry, are the main reason businesses improve rapidly over time.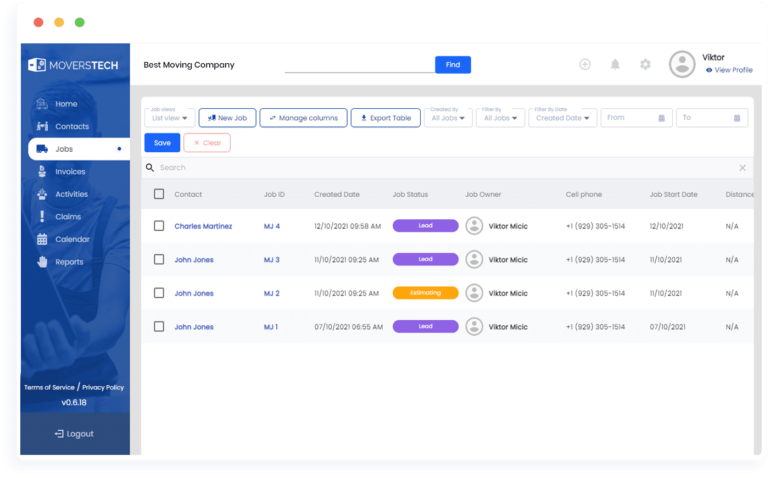 While there are many different strategies to handle dispatch with moving software, one of the best options is moving CRM. Even though this platform is initially intended for collecting and processing customer data to improve sales, specialized CRM also has other benefits.
The dispatching process consists of a couple of different steps:
Order processing
Packing
Labeling
Carrier selection
Transport
Tracking
Delivery
Every dispatcher must understand each process and know how to follow it so the customers get their packages on time. CRM software can touch and improve these sectors, and we will show you how! Here is how to optimize dispatching with technology!
What is moving CRM, and how can it help the optimization process of dispatching?
Moving CRM is a customer relationship management platform specializing in dealing with customers in the moving industry. It is equipped with powerful features that will help during the dispatching process, which is one of its most significant advantages over the traditional dispatching process, which was mainly manual.
What are the benefits of moving CRM for the dispatching process?
Real-time updates and notifications
Real-time updates allow dispatchers to notify movers immediately about new shipments. Furthermore, truck drivers can also use the real-time updates feature to inform the dispatcher about the shipment status. This communication approach will substantially affect the quality of customer service. You are reducing potential delays that could happen due to human error.
Streamlined scheduling and routing
Scheduling and routing are two very complex tasks. To adequately schedule all relocations, you must know the exact availability of drivers and trucks. Also, it is crucial to know the size of available trucks if it is necessary to handle a larger moving job.
A common issue with scheduling happens when the dispatcher does not have organized equipment documents. They are not able to make informed decisions and allocate resources accurately. Furthermore, if they cannot keep track of the real-time status of every relocation, they can only have an estimate of the availability of potential movers.
Also, the dispatcher often must route the moving crew to the customer. Using the most optimal route is crucial to save time and money on fuel. All of these processes are difficult to track traditionally. However, if you manage your moving crew with CRM, you can streamline scheduling and routing.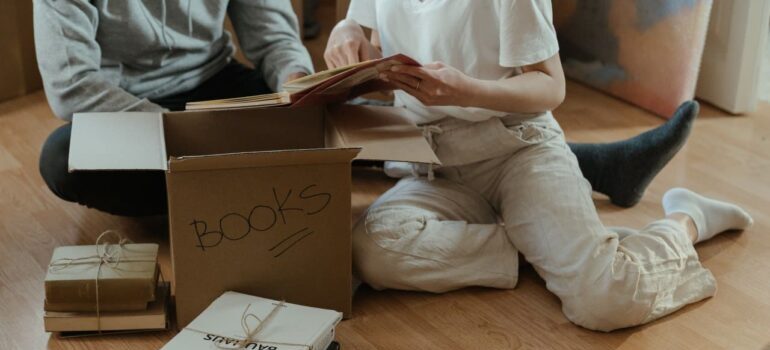 Optimized routing for maximum efficiency
How can you optimize routing for maximum efficiency? Let's look at an example. Let's say you have a moving crew that has to do 3 different jobs during one day. All 3 relocations are local but in other parts of town. An example of bad routing would be sending them to do one relocation, and when they finish, they should return to the garage. Then, you give them information for the second job, and they complete it and return. You repeat the same process for the third job.
What is happening here is that the crew has a lot of idle driving back and forth. Instead, you should calculate the most efficient moving route. Give them all 3 jobs and where to go first. If the starting address of job B is close to the destination address of job C, you should not route them to job A instead.
With the help of CRM, you will have insight into all customer locations, the size of the relocation, and the necessary equipment. That way, your crew can efficiently handle all the relocations without wasting time. This is a good opening line to introduce CRM in your moving company.
Automated scheduling based on available resources
Automation of scheduling processes is another huge benefit of moving CRM. A good thing about the software is that you can create items for all the moving equipment. You can define the size of the moving trucks, moving boxes, etc. Furthermore, you can also add profiles for each employee. So, when it is necessary to schedule a moving job, the system can quickly look at the availability and automatically assign available resources to the next task.
This is a very important process because it saves time. And it reduces human error in case something gets missed.
Real-time tracking and updates for customers
As a cherry on top, real-time tracking also lets customers know exactly where their shipment is. They often decide to ship some of the belongings in advance or even after moving in. As you can see, real-time updates are not only important for movers but also for clients.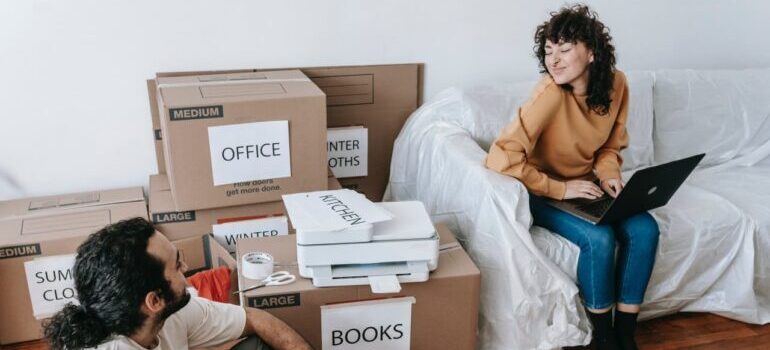 How to optimize dispatching with technology? With moving CRM!
And there you have it! If you ever wondered how to optimize dispatching with technology, MoversTech CRM has the answer. This fantastic technology is specialized for assisting movers to complete all of their tasks while being efficient and productive. If you add moving CRM to your toolset, you will quickly organize your moving business and set yourself up for success!
Stay Informed
Subscribe

for industry
news & updates
"*" indicates required fields